GOLDENCRAFTOVERSEAS IS ONE OF THE EMINENT MANUFACTURERS FOR ALL YOUR DECOR NEEDS.
Established in 2016, GOLDEN CRAFT OVERSEAS is one of the eminent manufacturers providing innovative Decor solutions across the globe, famous for its quality and pricing. Founded by Moradabad-based HASAN brothers the company has utilized their combined strength since establishment.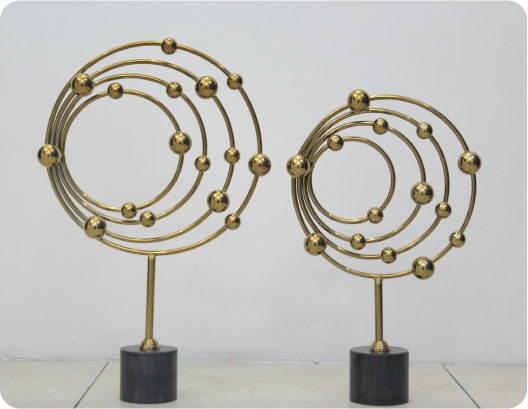 With this vast industrial knowledge and experience and as a domicile of Brass city (Moradabad), We planned to serve with superior quality, satisfaction customized designs developed by pinnacle artisans.
With years of experience shared between us, we started Golden Craft Overseas with a belief – To make Golden Craft Overseas an utterance of a refined and modern lifestyle.
Our Chore has always been to offer unforeseen and eccentric designs for your spaces.
With this design credo, we re-invent the old, throw the rule book out of the window, turn convention on its head and contemporize one stunning line, collection, and object at a time. We create and curate the now of luxury without compromising on quality and craft. With new collections hand-picked from across the globe, Address Home has its pulse on the quicksilver world of luxury home decor.
We have executed successful Interior Decor projects for renowned hotels, art galleries, retail showrooms, restaurants, residential and commercial spaces. Committing ourselves to continuous improvements and providing excellent lighting solutions for a wide variety of architectural applications, we have earned a high reputation for our design, reliability, and price competitiveness.